The Northway Fertility Centre offers an Oocyte Donation Programme with an individual donor selected specifically for you.
What is Oocyte Donation?
Oocyte Donation is an anonymous programme under which a woman donates her oocytes to another woman facing fertility problems to fulfil her desire of becoming a mother. Assisted reproduction (in vitro) with donor oocytes is one of the most successful infertility treatment methods because it involves using germ cells of healthy and young donors. During the assisted reproduction cycle with the donor's oocytes, the oocytes retrieved from the donor are combined with the patient's partner´s or donor's sperm to produce an embryo (or embryos), which are then transferred into the recipient's uterus.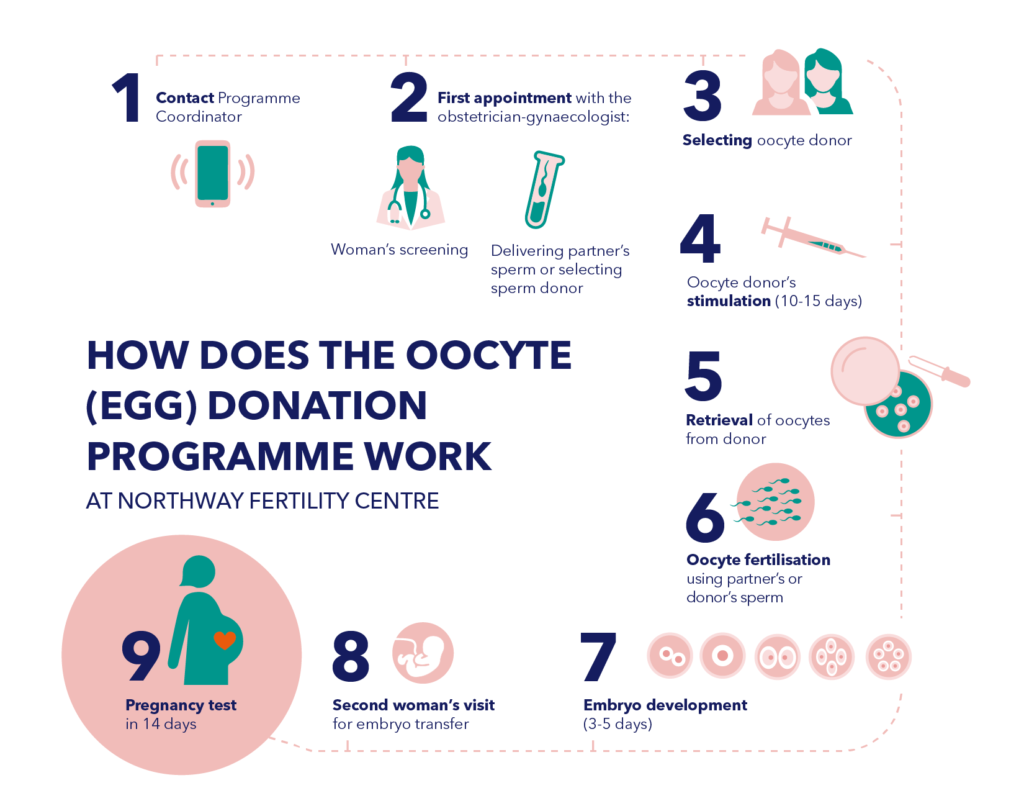 Northway Fertility Centre offers its patients:
2 embryos of good quality at the blastocyst stage;
Embryos for cryopreservation for your baby to have brothers or sisters.
Indications for Oocyte Donation:
Premature ovarian failure;
Diminished ovarian reserve;
Resistant ovary syndrome;
If your ovaries have been removed;
Radiotherapy;
Chemotherapy;
Recurring (more than three) unsuccessful assisted reproduction attempts with your own oocytes;
Genetic disorders.
Information about donors
Donors are selected based on strict selection criteria. To become a donor, candidates undergo medical screening to avoid any disorders or conditions which can affect the baby's health. Medical specialists carefully evaluate the results of this screening. The donor's family is checked for the absence of any known genetic disorders. The donor's mental health is also subject to checking.
One of the most outstanding features of our donation programme is that we combine the physical characteristics of the donor and the recipient (phenotype) as close as possible.
Each donor signs a consent form under which the donor, according to the legislation of the Republic of Lithuania, agrees to donate her oocytes to an undisclosed recipient couple.
Oocyte donation is anonymous. The patient will not be able to see the donors picture, meet her, nor obtain any personal information about her. However, when choosing the donor, the patient may learn the following general information about her:
Age;
Hair color;
Eye color;
Weight;
Height;
Blood group;
Rh factor;
Education;
Hobbies.
How to participate in the donation programme
If you are interested in the Oocyte Donation Programme, please contact the Programme Coordinator Kristina Mateikienė by phone 8 611 19217 or e-mail: kristina.mateikiene@northway.lt. She will answer any questions you might have.